Week 6, Day 1: Research and UX
posted Tuesday, July 26 2016 @ 3:07 pm EST

This week I'll be creating an "unfolding game" in the vein of A Dark Room or Candy Box. Unfolding games are a small, somewhat new genre of video game that start out very simple, almost mundane, and then expand in scope over the course of play. I feel this will make for an interesting UI demo, because it will require an interface that begins with almost nothing (a single button, a line of text or two) and smoothly evolves into something much more complex.
Our Company: No fictional company this time, I will be publishing without pretense under my own name.
Our Audience: Unfolding games are all about engaging the human curiosity, so our wide target can be "pretty much anybody looking for something to do on the internet". More specifically, this kind of experience is most likely to appeal to people in their 20s - 40s trying to kill 20 minutes to a couple of hours online.
Use Cases:
• Online entertainment.
• Potential ad revenue if things really take off.
Content Strategy:
• Provide an interactive experience which is effortless and intuitive to learn.
• Start with a single button, and gradually add elements as the player progresses.
• Surprise users with new reveals often enough to maintain engagement, but not so often as to confuse.
• Use non-interactive style changes such as text and background color to reflect various events.
• I'll include Google Analytics to keep an eye on how things are going.
UI Spec:
This will be a lightweight one-page app.

• Main Interface - various lists, logs, and buttons to interact with the game logic.

• Bottom-left
• © ZAS 2016 - medium gray font to be less intrusive, links to portfolio site

• Bottom-right
• Save - export game data to a simple text string
• Share - buttons for various social media platforms
• Restart - restart the game from the beginning
Flowchart and Wireframe: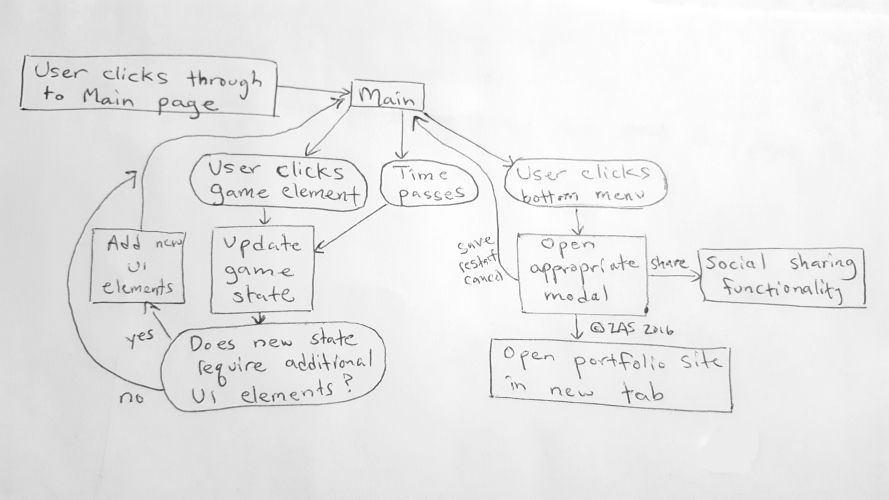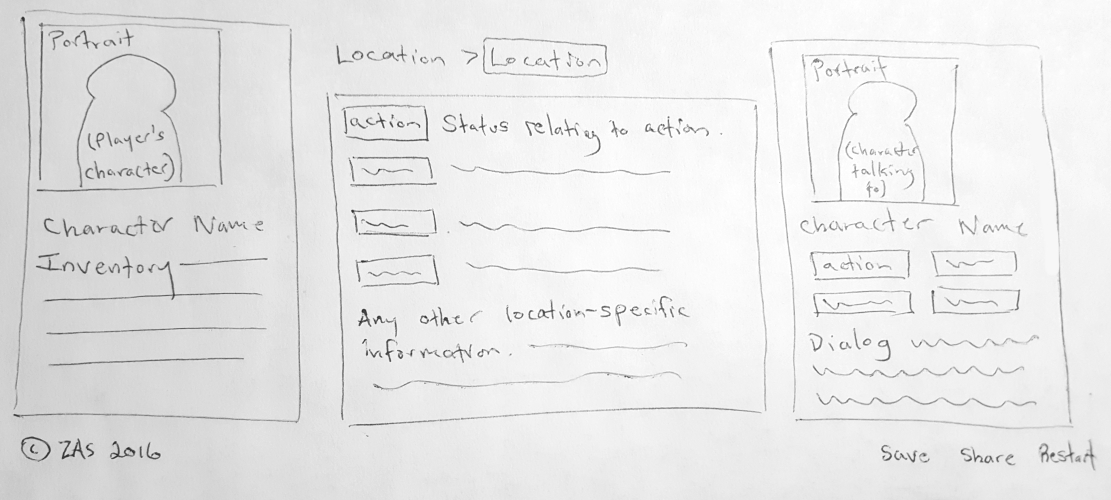 Tomorrow: mockup, beginning implementation!
(Click to read more)